Taramasalata Dip
Laura Sharrad
150g smoked salmon roe
4 sliced sourdough white bread
1 garlic clove, finely chopped
1/4 red onion, finely chopped
150ml olive oil
Pinch sea salt
2 lemons
Extra roe, for serving
Black pepper, for serving
1 sourdough loaf, for serving
Soak the bread in water for 5 minutes to soften, then squeeze out all excess water and moisture.
In a food processor, blitz the roe, bread, garlic, onion, lemon zest until a paste forms.  Slowly pour in the oil until emulsified & season with salt and lemon juice.
To serve, place into a serving dish, drizzle with olive oil, salt, black pepper & top with extra salmon roe.  Serve with crusty bread.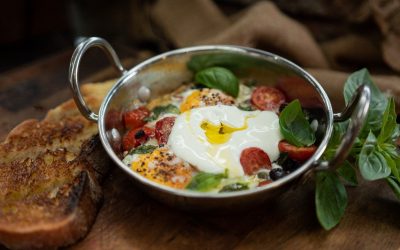 Ingredients: 9 cherry tomatoes, halved 1 small garlic clove, thinly sliced 2 tsp good-quality olive oil 1 tsp balsamic vinegar 5 basil leaves, torn, plus a few extra to serve if you like 5 pitted olives, sliced 2 large free-range egg 1 tsp small capers, rinsed salt...