Thai Chicken Larb
Mike Reid
Recipe brought to you with the help of our friends at Velisha Farms
1 tbsp oil
225g Chicken mince
2 tbsp fish sauce
1 lime, juice only
1 tsp caster sugar
3 spring onions, finely chopped
¼ cucumber, finely diced
2 red chillies, finely sliced
1cm ginger, peeled and finely chopped
½ bunch coriander, leaves and stalks roughly chopped
½ bunch mint, leaves only, ripped
50g salted (but not dry roasted) peanuts
12 largish crisp iceberg lettuce leaves (cup-shaped are best)
Drizzle the oil into a large frying pan over a high heat. Add the minced chicken with salt and pepper and cook for 4-5 minutes, stirring regularly and breaking it up as you do so, until it turns from pink to white.
Cut a piece open to check it is cooked and then tip the chicken into a colander set over a bowl. Leave to cool for five minutes (so it doesn't cause the herbs to wilt) while also allowing any excess liquid to drain off, if necessary.
Pour the fish sauce and lime juice into a large bowl and stir in the sugar until dissolved. Add the spring onions, cucumber, red chilli, ginger, coriander, all but a small handful of the mint leaves and the peanuts and stir together well.
Tip the chicken in and toss it through. Taste it and check to see if it needs a little bit more of anything to get it just to your liking.
Our friends at Wine Selectors suggest pairing this dish with a Riesling.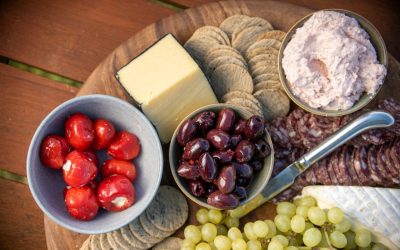 Ingredients: Hard Cheese Soft Cheese Blue Cheese 1 baguette  A bunch of Green Grapes Honeycomb Salami (sliced) Smoked Salmon Dip Artisan Crackers Beetroot dip Poppy Seed Skordalia Dip Dukkah Stuffed Bell Peppers Marinated Olives (pitted) Method: There are no rules or...