Thai Laksa with Pork Belly
Karen Chan
½ jar VALCOM Thai Style Laksa Paste
1 cup TCC Premium Coconut Milk
¾ cup water
200g Hokkien noodles, prepared according to the pack instructions
100g roasted pork belly, prepared as per recipe)
For garnish: bean sprouts, cut green beans, sliced hard-boiled egg, Thai basil
Crispy Pork Belly
1 kg pork belly (skin scored)
3 tbsp salt
3 tbsp oil
2 tsp white pepper
In a saucepan, add VALCOM Thai Style Laksa Paste, TCC Premium Coconut Milk and water. Bring to boil and turn off heat.
Place the cooked noodles into two serving bowls, and bean sprouts on top.
Ladle some soup into the bowl of noodles.
Garnish with the rest of the ingredients. Place preferred size of pork belly on top.
Crispy Pork Belly:
Pat dry the skin and rub 2 tbsp salt and 2 tsp pepper over the pork. Place on a tray and into the fridge overnight, uncovered.
The next day, remove the pork from the fridge for at least an hour before roasting.
Preheat oven to 180c. Place pork on a rack. Pat dry the skin with paper towels. Rub the skin with remaining salt, ensuring salt gets into the scoring. Rub the skin with oil.
Place the rack onto a tray and into the oven. Reduce temperature to 160c and roast for 2.5 hours. Increase the temperature to 240c and roast for another 30 minutes or until skin has crackled.
Remove from the oven and rest for 10 minutes before cutting.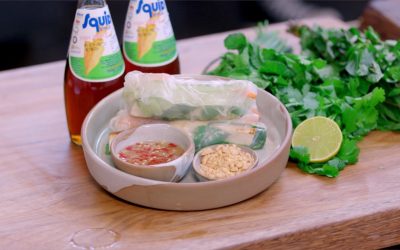 This recipe is brought to you by our friends at Asian InspirationsIngredients:Serves: 8 Prep Time: 10 mins Cook Time: 15 mins Main Ingredients: 1 packet rice paper 150g rice vermicelli noodles 1 bunch coriander 1 bunch Thai basil 1 bunch mint 1 bunch garlic chives 1⁄4...