Thai Poached Fish in Red Curry
Chef Mod
Recipe brought to you with the help of our friends at Asian Inspirations
1 cup TCC Premium Coconut Milk
2 white fish fillets
1 lemongrass
2 tsp Squid Brand Fish Sauce
1⁄4 cup Valcom Red Curry Paste
Fresh ginger (finely shredded)
Cucumber Salad:
1⁄2 cup lime juice and zest
15g palm sugar
1⁄4 coriander (finely chopped)
1⁄2 small cucumber (diced)
2 kaffir lime leaves (spine remove and thinly sliced)
Mix juice, sugar and lime zest in a bowl. Finely chop root and stem of coriander, and roughly

chop the leaves. Add kaffir lime leaves, cucumber and coriander to the lime juice mix. Set aside.

Heat up coconut milk and lemongrass in a wok and bring to a boil over medium-high heat.

Add the fish fillets, cover the lid and lower the heat to simmer. Allow it to cook for 10 mins or

until cooked through.

Remove fish from wok and dispose the lemongrass. Mix curry paste and fish sauce with coconut milk and cook for 1-2 mins.

Serve curry sauce in the base of serving bowls, top fish with cucumber mixture and embellish

with fresh ginger.
Our friends at Wine Selectors suggest pairing this dish with a Gewurztraminer.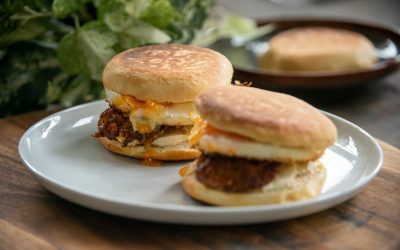 Ingredients: 300ml milk, plus extra 7g sachet of dried yeast 25g white caster sugar 50g shortening or lard 425g plain flour, plus extra 20g polenta, optional Unsalted butter Method: Gently warm the milk in a pan until lukewarm or body temperature, 37ºC. Add the yeast...