The Perfect Steak with Potato Gratin
Ben O'Donoghue
1kg piece Porterhouse Steak on the bone* or OP Rib Eye (T-bone with loin attached)
1/3 cup (80ml) extra virgin olive oil, plus extra to brush
1tbsp each chopped thyme & rosemary
2 garlic cloves, thinly sliced
Himalayan rock salt or similar
Potato Gratin
500g sliced peeled waxy potatoes
1 clove garlic 
Chopped chives
1 cup pure cream
½ cup full cream milk
1tbsp butter
Salt 
Pepper
Perfect Steak
Preheat a heavy-based fry pan, char grill pan or barbecue on high heat. Brush steak with extra oil, then season with salt. Reduce heat to medium-high, then cook steak for 15 minutes each side for medium-rare.
Place thyme, rosemary, garlic and olive oil in a shallow dish with freshly ground black pepper and a couple of pinches of coarse sea salt. Place the cooked steak in the dish, cover with foil and set aside in a warm place for 15 minutes to rest, turning once.
As a rule, you should rest meat for half as long as you cook it, juices redistribute and meat becomes tender.
Potato Gratin
Rub a tray with butter, press the crushed garlic into the butter.
Place sliced potatoes and cover in cream and milk, topped with salt, pepper and bake at 160C for about 1 hour or until potatoes are tender and golden.
Top with chives.
Our friends at Wine Selectors suggest pairing this dish with a Red Willow Bridge Estate Dragonfly Shiraz or White Iron Cloud Pepperilly Sauvignon Blanc Semillon 2019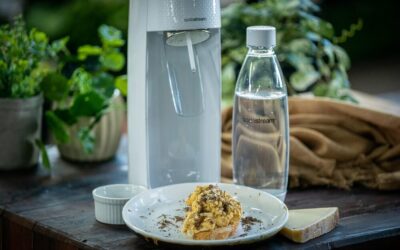 Ingredients: Serves 4 12 eggs, best quality you can afford 150ml sparkling water 2 tablespoons freshly grated parmesan Sea salt and freshly cracked pepper 20g butter 4 thick slices of sourdough, toasted/charred Method: Mix together the eggs, sparkling water, parmesan...