The Ultimate Chicken Salad Wrap
Khanh Ong
2 cups of water
1 thumb sized piece of ginger
2 spring onions
1 brown onion
1 chicken breast 200g
2 stalks of celery finely chopped
1⁄2 a green apple finely chopped
1 tbsp of lemon juice
2 sprigs of dill
50g of roasted chopped walnuts
1 1⁄2 tbsp of kewpie mayo
1⁄2 a cup of greek yoghurt
a pinch of salt
Garnish:
1 head cos lettuce
1⁄4 of a red onion thinly sliced
1⁄2 an avocado thinly sliced
1 tomato thinly sliced
4 Simpsons Pantry Charcoal Wraps
Place in a small pot on high heat the water, ginger sliced, spring onion stalks, brown onion quartered and bring to the boil.
add the chicken breast in and once it comes to the boil again cover with a lid and turn to the lowest heat to poach gently for 11-14 minutes.
remove and place chicken into an ice bath.
shred the chicken and then combine with all other ingredients in a large bowl.
Heat up the wraps for about 20 seconds, then assemble the salad and garnish on top, roll up the wraps and serve.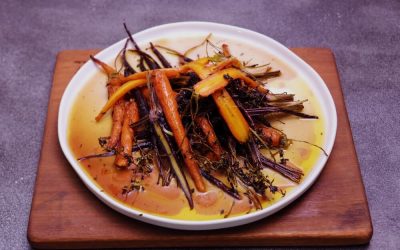 Join Elena Duggan as she creates her Honey Herbed Carrots recipe. Tune in to The Market kitchen each weekday on Channel 10.