Toad in the Hole
Ben O'Donoghue
Yorkshire Pudding Batter
225gm flour
Pinch salt
3 eggs whole
200ml milk
200ml water
The Toad
8 course minced pork sausages
4 Streaky bacon rashers
8inch long fresh rosemary sprigs
Cracked black pepper
Veg oil 1/2 cup
The Sauce
1 large brown onion peeled and sliced length ways
50g butter
1 clove garlic chopped
Enough gravy powder to make 400mls of thick gravy
Combine all the ingredients for the batter and whisk well so the batter is thin and lump free. Allow to rest for 1 hour.
Wrap each sausage with a strip of bacon and fasten with a sprig of rosemary
In a muffin tray at least two to three inches deep, place the veggie oil and heat in an oven at 180 degrees until just smoking.
When very hot remove from the oven and carefully place the sausages into the tray, then sprinkle with freshly ground pepper.
Pour over the batter to two third the depth of the sausages you don't have to use all the batter. Then place into the hot oven and cook for about 20 minutes.
For the gravy, cook the sliced onion in the butter gently until very soft and slightly golden. Season with the garlic, salt and pepper. Then add to the made gravy and serve hot with the toad in the hole.
For chef quality results, we recommend using Anolon cookware!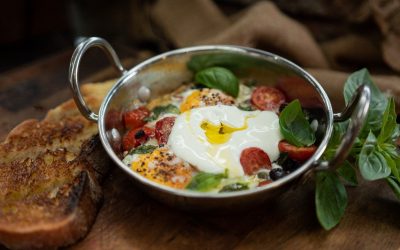 Ingredients: 9 cherry tomatoes, halved 1 small garlic clove, thinly sliced 2 tsp good-quality olive oil 1 tsp balsamic vinegar 5 basil leaves, torn, plus a few extra to serve if you like 5 pitted olives, sliced 2 large free-range egg 1 tsp small capers, rinsed salt...