Tomahawk Steak, Vine Baby Tomato, Brown Butter Hollandaise
Mike Reid
Recipe brought to you with the help of our friends at Supreme Caravans
1 Tomahawk steak, French trimmed at least 1.2k
100ml Beef Fat, rendered
150g Vine ripened datterino tomatoes (Please need to be on the vine
2 egg yolks
125g butter, melted
Lemon juice, salt and pepper to taste
2 tbsp white vinegar (must be good quality)
Ensure your steak is out at room temperature for at least 30 minutes before grilling.
Make sure your grill is on a medium to high heat. Place your steak on the grill.Once on season generously with sea salt.
Whilst your steak is cooking add your vine tomatoes to the grill and cook them alongside
To make you hollandaise, bring a small pot of water to the boil. Place your egg yolks, lemon juice, vinegar and start to whisk over the water. Keep whisking until your figure of 8 starts to hold in the mixture, this is called the saybon stage.
Now start to pour in your clarified butter until its all incorporated.
Whilst making your hollandaise ensure you keep an eye on your steak turning it every few minutes and continuously basting it with the beef fat until cooked.
Make sure you cook your steak one temperature less so that you can leave it to rest which will take it to your desired temperature.
Our friends at Wine Selectors suggest pairing this dish with a Malbec.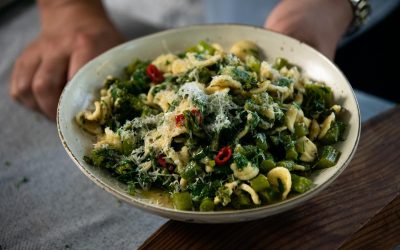 This recipe is brought to you with the help of our friends at Perfection Fresh  Ingredients: 500g orecchiette pasta Table salt for pasta water 2 heads broccolini, cut into small pieces, use stalk as well 4 birds eye chilli, sliced finely 5 cloves garlic, chopped 4...