This recipe is brought to you with the help from our friends at Velisha Farms
800g Doncaster & black Russians Tomatoes, chopped
½ Red Onion, thinly sliced
1 Tbsp vinaigrette
1 Lemon, zest
10g Wild Rocket
Dressing:
200ml Early harvest Olive oil
3 Tbsp Cherry blossom Vinegar
2 Tsp Dijon Mustard
1 Tsp Garlic, chopped
1 Tsp Honey
Dressing:
Mix all ingredients together and whisk well to combine
Salad:
Chop tomatoes into wedges. Mix with onions and dressing and place in a bowl
Top with lightly dressed rocket and grated lemon zest
Our friends at Wine Selectors suggest pairing this dish with a Fiano.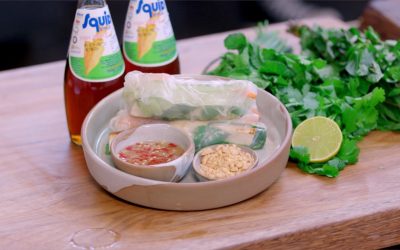 This recipe is brought to you by our friends at Asian InspirationsIngredients:Serves: 8 Prep Time: 10 mins Cook Time: 15 mins Main Ingredients: 1 packet rice paper 150g rice vermicelli noodles 1 bunch coriander 1 bunch Thai basil 1 bunch mint 1 bunch garlic chives 1⁄4...