Tommy Roughs with Apple Beetroot and Cucumber
Jack Ingram
6 fillets South Australian tommy ruffs
150g Natural yoghurt
½ Bunch flat leaf parsley
1 Lemon zested and juiced
3 Yellow baby beetroots – cooked and peeled
3 Baby beetroots – cooked and peeled
20ml Red wine vinegar
60ml Olive oil and a little to grill the tommys with
To Serve:
1 pink lady apple cut into slices
½ continental cucumber deseeded and sliced into wedges
Fresh herbs from your garden
Yoghurt dressing:
To make the yoghurt dressing finely chop parsley and mix with the yoghurt, lemon zest and lemon juice. Season with Salt and pepper to taste. Set aside for serving.
Marinated beetroots:
Cut your cooked and peeled beetroots into 2cm chunks or as large or small you desire. In a mixing bowl whisk the red wine vinegar and olive oil together, add your beetroots and set aside to marinate (this can be done in bulk and stored in an airtight jar in your fridge.
Cook and serve: 
Heat a non-stick frypan on medium high heat until almost smoking, add your olive oil and gently place your fish fillets skin side down, after 20 seconds lightly press the fillets to ensure they are flat (this will give you an evenly crisp skin), once you can see the fillets are 80% cooked quickly flip them over and cook for 20 seconds more, remove from the pan ready to serve. To serve spread the yoghurt dressing on the base of the plate followed by the tommys, scatter the marinated beetroots, sliced apple and cucumber in and around the fish. Finally spoon some of the beetroot marinate liquid as a dressing and garnish with fresh herbs.
Our friends at Wine Selectors suggest pairing this dish with a Sauvignon Blanc.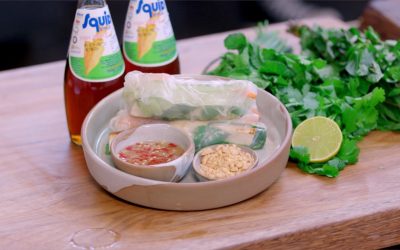 This recipe is brought to you by our friends at Asian InspirationsIngredients:Serves: 8 Prep Time: 10 mins Cook Time: 15 mins Main Ingredients: 1 packet rice paper 150g rice vermicelli noodles 1 bunch coriander 1 bunch Thai basil 1 bunch mint 1 bunch garlic chives 1⁄4...