Tray Bake Pork Chop with Parsnip and Pear
Ben O'Donoghue
4 loin pork chops skin on (make sure they have a good fat layer to keep them moist)
Salt and pepper
1 head of garlic
1/2 x bunch thyme
3 pears cut into quarters and remove the seed segment
3 parsnips peeled and cut in half or quarters depending on size
Extra virgin olive oil
Preheat your oven to 180 degrees
Using a sharp knife, cut through the skin on the pork chop every 2-3cm. season well with salt and pepper
Break up the garlic bulb and remove the root segment off the cloves, leaving the skin on. Toss the pear 1/4s, parsnips and garlic in a bowl with about 2 tablespoons of extra virgin olive oil and the thyme
Place the veg on the bottom of a roasting tray and place the seasoned pork chops on top. Place into the hot oven and bake for 45-50 minute. The skin on the [rok chop should crispen and crackle. Move the chops around and turn the veg occasionally so everything cooks evenly. The pork chops should be well done and the veg soft and caramelized
Serve each chop with equal amounts of fruit and veg.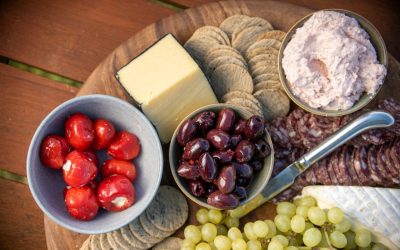 Ingredients: Hard Cheese Soft Cheese Blue Cheese 1 baguette  A bunch of Green Grapes Honeycomb Salami (sliced) Smoked Salmon Dip Artisan Crackers Beetroot dip Poppy Seed Skordalia Dip Dukkah Stuffed Bell Peppers Marinated Olives (pitted) Method: There are no rules or...