Tray Baked Chicken Maryland
Ben O'Donoghue
Serves 6
2 bulbs garlic
6 large chicken thighs, on the bone, skin on
4 long stalks rosemary, sprigs removed (about 20)
1/4 bunch thyme
salt and freshly ground black pepper
A drizzle of olive oil
Approx. 500 ml (17 fl oz/2 cups) Massel https://massel.com/ chicken stock
500 g (1 lb 2 oz) green beans, top and tailed and evenly trimmed
1x 400gm tinned lentils, rinsed and drained
Salsa Picante
1/2 red onion, very finely diced
1 long dried chillies, finely chopped
1 fresh red chilli, seeds removed and finely chopped
1tbsp chopped basil
1tbsp chopped flat-leaf (Italian) parsley
1/2 tbsp (1/2 oz/1/4 cup) chopped marjoram
1/2tbsp dried wild or regular oregano
2 tablespoons red-wine vinegar
salt and freshly ground black pepper
2–3 tablespoons extra-virgin olive oil
Preheat the oven to 200°C (400°F).
Break the garlic bulbs up by hand and discard the skins. Slice off and discard the root end of the garlic cloves and gently squash each using the back of a knife.
In a bowl, toss the chicken, garlic, rosemary, thyme and a good pinch of salt and pepper with a glug of olive oil. Tip into a roasting tin, make sure the chicken skin is facing up, and cook in the oven for 15 minutes.
The chicken should have started to colour and become crisp. Remove from the oven and add the stock to half cover the chicken. Turn the oven down to 180°C (350°F) and cook for a further 20 minutes.
Add the green beans and the drained lentils and combine well. Cook for a further 15 minutes. Remove from the oven and allow to rest while you prepare the salsa picante.
Make the salsa by combining the onion, chillies and herbs in a bowl. Add the vinegar, season to taste and drizzle over the oil.
For chef quality results, we recommend using Anolon cookware!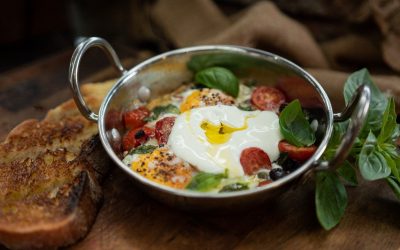 Ingredients: 9 cherry tomatoes, halved 1 small garlic clove, thinly sliced 2 tsp good-quality olive oil 1 tsp balsamic vinegar 5 basil leaves, torn, plus a few extra to serve if you like 5 pitted olives, sliced 2 large free-range egg 1 tsp small capers, rinsed salt...