Tuna Casserole
Joel Feren
Serves 6
½ cup Glucerna powder
250g macaroni
185g canned tuna, drained
½ cup peas
½ cup corn
60g butter
2 cups milk
2 tbsp. flour
1 cup cheddar cheese
1 tbsp. parmesan cheese
1 tbsp. parsley, chopped
1 spring onion, finely chopped
¼ cup panko breadcrumbs
Salt and pepper to taste
Preheat the oven to 180°C.
Lightly grease a baking tray and set aside.
Cook the pasta as per packet directions. Drain and set aside.
Melt butter in a pot over a medium heat. Stir in the flour and cook for 1 minute.
Slowly add the milk to the pot and continue stirring for 3-4 minutes or until the mixture thickens. Remove from the heat.
Stir through the Glucerna powder and mix well.
Add tuna, cheeses, peas, corn, parsley and spring onions to the mixture.
Combine the pasta and sauce in the baking tray and mix well.
Top the mixture with breadcrumbs.
Bake for 20 minutes or until golden brown.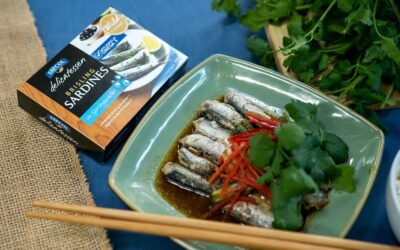 Ingredients: 110g Safcol Sardines in Springwater, drained 2 tbsp oil 1 clove garlic, sliced 2 slices ginger, julienned 2 spring onions, cut to 2cm lengths 1 tbsp brandy (you may substitute this with Chinese cooking wine) 2 tsp black bean sauce (available in the Asian...