Tuna Chop Salad on Turkish Bread
Ben O'Donoghue
250g can Safcol tuna
1 red onion finely sliced
4 radishes finely sliced
1 lg ripe tomato diced
2 tablespoons chopped flat leaf parsley
1tablespoon kewpie mayo
1 lemon
Salt
2 squares of Turkish bread sliced horizontally
1 ripe avocado
Combine the tuna,red onion slices, radish, tomato and parsley in a large bowl and dress with the mayo and a squeeze of lemon juice and season with salt and pepper.
Toast the Turkish bread either on a griddle pan or a bbq until nicely charred. Spread the toasted Turkish bread with the ripe avocado. Then top with the salad mixture.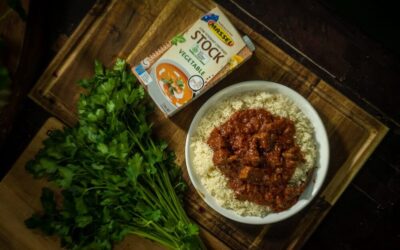 Ingredients: 1 1⁄2 kg round steak, cleaned and cut into cubes 3 cans of roma tomatoes, crushed by hand 1 onion, finely diced 2-3 cloves of garlic 1⁄2 cup of olive oil, plus an additional 2 tbsp 1tbsp red wine vinegar 1L water or chicken stock (optional) 1tbsp tomato...