1⁄2 cup Glucerna
50g butter
2 spring onions, roots trimmed, finely diced
1 1⁄2 cup full cream milk
1 cup of grated cheese
1⁄4 cup all-purpose flour
425g tuna in olive oil, drained
2 tbsp. breadcrumbs
Pre-heat oven to 180°C.
Melt butter in pan over low-medium heat. Add flour and stir for 1 minute. Remove from heat.
Gradually add milk and stir until combined. Return to heat and cook until sauce boils and thickens. Remove from heat and add Glucerna powder, cheese and tuna.
Spoon mixture into ovenproof dish and sprinkle with breadcrumbs.
Bake for 15 minutes or until breadcrumbs become golden brown
Garnish with fresh herbs and serve alongside garden salad.
For more details on Glucerna, go to glucerna.com.au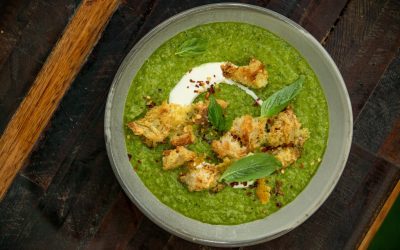 Ingredients: 2 heads broccoli 1 large leek, halved lengthwise, rinsed 2 tbsp extra virgin olive oil 1 head garlic, unpeeled 4 cups (1L) chicken or vegetable stock 120g baby spinach leaves 125g sour cream, plus extra to serve Chilli flakes & herbs, such as basil,...