1⁄2 cup Glucerna
50g butter
2 spring onions, roots trimmed, finely diced
1 1⁄2 cup full cream milk
1 cup of grated cheese
1⁄4 cup all-purpose flour
425g tuna in olive oil, drained
2 tbsp. breadcrumbs
Pre-heat oven to 180°C.
Melt butter in pan over low-medium heat. Add flour and stir for 1 minute. Remove from heat.
Gradually add milk and stir until combined. Return to heat and cook until sauce boils and thickens. Remove from heat and add Glucerna powder, cheese and tuna.
Spoon mixture into ovenproof dish and sprinkle with breadcrumbs.
Bake for 15 minutes or until breadcrumbs become golden brown
Garnish with fresh herbs and serve alongside garden salad.
For more details on Glucerna, go to glucerna.com.au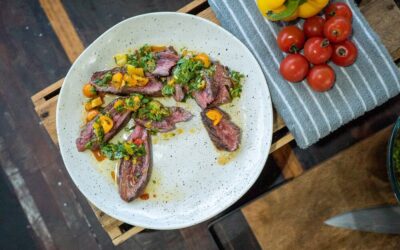 Ingredients: Serves: 4 800g Hanger Steak Sea Salt 1 small yellow pepper, seeds removed, roughly chopped 6 Yellow baby Tomatoes 1 small red chilli, seeds removed ½ tsp dried flaked chillies 2 Garlic cloves, peeled 20g fresh parsley, including any tender stalks 10g each...