Twiced Baked Souffle with Poached Eggs
Ben O'Donoghue
Souffle base
Makes 6
500ml full cream milk
100g or ½ medium brown onion peeled and sliced
1 clove of garlic peeled and slightly squashed
120g Plain flour plus
100gm soft butter to rub moulds
100g Unsalted butter
30g Dijon mustard
40g or 3 egg yolks
300g egg white
200g goats curd or soft goats cheese
2gm pepper corns
50gm finely grated parmesan cheese
6tbsp cream
Place the milk, sliced onion and pepper corns in a pot and bring to a simmer and then allow to stand for 15minutes to infuse
In a separate pot over a medium heat melt the butter and then add the flour and cook for 1-2 minutes. Slowly add the infused milk discarding the onion, garlic and peppercorns. Until you have a thick white sauce
Add the mustard, egg yolks and cheese and mix until smooth.
Preheat the oven to 190 degrees. Rub you 6 souffle dishes with the soft butter and dust with the finely grated cheese. Any leftover put into your white sauce base
In a clean whisking bowl place your egg whites and whisk to a soft peak
Beat in 1/3 of the egg whites into the white sauce mixture to loosen. Then gently fold another 1/3 to incorporate then the final 1/3 carefully so you don't lose too much volume.
Fill each mold equally, place the molds on a tray and bake for 15 minutes. Then remove and allow to cool. You can do these the day ahead or several hours.
Once cool turn them out
To reheat. Place the souffles in a baking dish and pour 1 tablespoon of pure cream over the top of each and place back into a preheated at 180degrees oven and bake for 15 minutes until puffed and golden. Serve each with a poached egg on top with hollandaise and a little salad.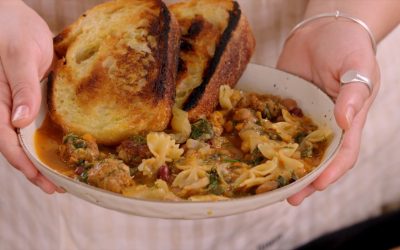 Ingredients: 4 Spicy Italian Sausages Packet of Farfalle Pasta 1 Leek 1 Carrot 1 Onion 2 Garlic 2 cups Shredded Cabbage 1 Chopped Silver Beet 1 400gm Tinned Beans 1 tsp Cumin powder 1 tsp Coriander  powder 1tsp Paprika powder 2 tbsp Tomato Paste Stock of your choice...