Vanilla Bean Sour Cream Cake
Simone Austin
6 scoops Glucerna Powder
1 ¼ cups self raising flour
100ml sour cream
125ml natural yoghurt
½ cup caster sugar
2 eggs
1 ¼ cups extra virgin light olive oil
½ teaspoon vanilla bean extract
½ teaspoon lemon rind, finely grated
Extra yoghurt for serving
Fresh raspberries for serving
Preheat the oven to 180 degrees Celsius
Grease a ring tin or 20cm round cake tin
In a mixing bowl whisk or beat the oil, sugar, eggs, vanilla bean, lemon rind and sour cream.
In a small bowl or glass mix the Glucerna powder with the yoghurt and add to the other wet mix
Add in the flour gradually and beat until you have a smooth batter
Pour the batter into the cake tin and bake for 30minutes or until golden brown and a cake tester comes out clean.
Cool in the tin on a wire rack. When cold turn out and serve a slice with a dollop of natural yoghurt and handful of berries.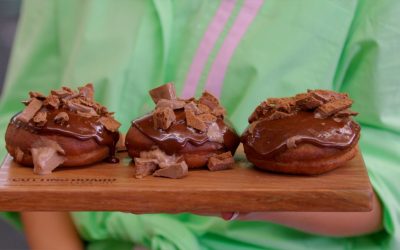 Ingredients: 7 gm (1 sachet) dried yeast 360 gm plain flour 55 gm (¼ cup) caster sugar 150 ml lukewarm milk 40 gm softened butter 1 egg 250 gm milk chocolate, finely chopped 190 gm crème fraîche 70 ml pouring cream For deep-frying: vegetable oil 3-4 Tim Tams, coarsely...