Vegan Pomelo Salad
Khanh Ong
2 red eye chilis
3 cloves of garlic
1⁄2 thumb sized piece of ginger
1⁄2 a shallot
1 1⁄2 tbsp sugar
Juice and zest of 1 and ½ limes
1 tsp vegemite
8 cherry tomatoes
3 pieces of pomelo peeled and broken up
50g bean shoots
1⁄4 bunch thai basil leaves
1⁄4 bunch of vietnamese mint leaves
1⁄2 bunch of coriander leaves
70g roasted peanuts whole
To Serve:
Coriander leaves
Thai basil tips and flowers
Fried shallots
Roasted peanuts
In a mortar and pestle red chilis, garlic, ginger, shallots, sugar and lime zest roughly
Add lime juice and stir in vegemite
Pound cherry tomatoes until just broken.
In a large mixing bowl add the rest of the ingredients and toss together
Pour dressing over and mix well.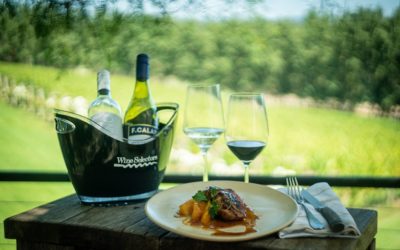 Ingredients: 4 duck breast 1 tablspoon brown sugar ½ tablespoon salt ¼ bunch thyme 1 tsp five spice butter garlic Sauce 1/3 cup sugar 1/3 cup fresh orange juice (from 1 to 2 oranges) segments of one orange 2 tablespoons white-wine vinegar 1/8 teaspoon salt 2 to 4...