Vegan Pomelo Salad
Khanh Ong
2 red eye chilis
3 cloves of garlic
1⁄2 thumb sized piece of ginger
1⁄2 a shallot
1 1⁄2 tbsp sugar
Juice and zest of 1 and ½ limes
1 tsp vegemite
8 cherry tomatoes
3 pieces of pomelo peeled and broken up
50g bean shoots
1⁄4 bunch thai basil leaves
1⁄4 bunch of vietnamese mint leaves
1⁄2 bunch of coriander leaves
70g roasted peanuts whole
To Serve:
Coriander leaves
Thai basil tips and flowers
Fried shallots
Roasted peanuts
In a mortar and pestle red chilis, garlic, ginger, shallots, sugar and lime zest roughly
Add lime juice and stir in vegemite
Pound cherry tomatoes until just broken.
In a large mixing bowl add the rest of the ingredients and toss together
Pour dressing over and mix well.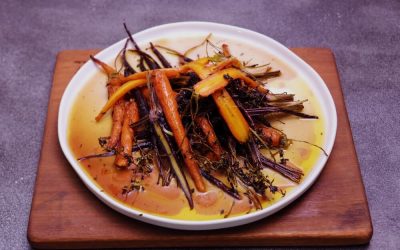 Join Elena Duggan as she creates her Honey Herbed Carrots recipe. Tune in to The Market kitchen each weekday on Channel 10.