Vegetarian Shepherd's Pie
Joel Feren
Serves 6
½ cup Glucerna powder
1 cup quinoa, rinsed
1 capsicum, diced
1 onion, diced
200g mushrooms, chopped
1 can diced tomatoes
1 zucchini, diced
100g spinach
500g potatoes, peeled, roughly chopped
1 tbsp. butter
2 tbsp. milk
1 tbsp. sour cream
½ cup grated tasty cheese
2 tbsp. parsley, chopped
1 vegetable stock cube, crumbled
½ cup water
2 tbsp. extra virgin olive oil
Salt and pepper to taste
Preheat the oven to 180°C
Cook the quinoa as per packet instructions. Set aside.
Heat oil in a large frying pan over a medium-high heat. Add onion, mushrooms, zucchini and capsicum, stirring for 5 minutes or until the vegetables become soft.
Add the tinned tomatoes, water and stock cube and stir well. Reduce the heat to low and simmer for 10 minutes or until the vegetables are tender.
Stir through quinoa, spinach, parsley and seasoning and set aside.
Meanwhile, cook potatoes in a pot of boiling water for 15 minutes or until tender. Drain well.
Mash potatoes in a mixing bowl and add butter, milk, sour cream and Glucerna powder. Combine well.
Add quinoa mixture to a baking dish. Evenly spread the mixture and top with mashed potatoes. Top with cheese.
Bake for 15 minutes or until the cheese is melted and golden brown.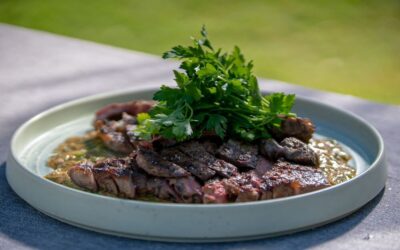 Ingredients: Serves: 2-4 2 x 250g T-bone or Rump steak Sea salt 2 Tbsp Olive oil 2 Tbsp Butter 1 brown onion, diced 2-3 cloves garlic, finely chopped 1 tsp dried chilli flakes 2 tsp dried mixed herbs 40 'twists' cracked black pepper 2 chicken stock cubes, crumbled 2-3...