Vietnamese Rice Paper Pizza
Khanh Ong
5 thick rice paper
10 quail eggs
1⁄4 cup pork floss
2 tbsp dried small shrimp powder (soak shrimp in water then chop finely then toast in pan until fragrant)
1⁄4 cup spring onion oil
Pinch of white pepper
Sriracha
Kewpie mayo
To Serve:
1⁄2 bunch of spring onion
1⁄2 cup of veg oil
1. Place a rice paper over the coals, spread two eggs over the rice paper then top with a tsp of pork floss, 1⁄2 tsp of shrimp powder, 1 tsp of spring onion oil, a pinch of white pepper, a squeeze of sriracha and squeeze of kewpie.
Spread everything over rice paper and continually turn for 1-2 minutes until crispy and egg is cooked fold in half and repeat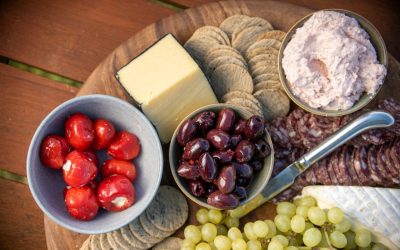 Ingredients: Hard Cheese Soft Cheese Blue Cheese 1 baguette  A bunch of Green Grapes Honeycomb Salami (sliced) Smoked Salmon Dip Artisan Crackers Beetroot dip Poppy Seed Skordalia Dip Dukkah Stuffed Bell Peppers Marinated Olives (pitted) Method: There are no rules or...