Wafu Spaghetti Carbonara
Tobie Puttock
Recipe brought to you with the help of our friends at Wine Selectors
2 tablespoons butter
1 small onion, finely minced
200g mushrooms, preferably oyster or shiitake, sliced
2 garlic cloves, peeled and finely sliced
2 tablespoons sake
Sea salt and freshly cracked pepper
3 tablespoons white miso
4 tablespoons dash or chicken stock
2 eggs
Juice of half a lemon
Toasted sesame seeds, about a tablespoon
1/2 sheet of nori, julienne or cut thinly with scissors
20g freshly grated pecorino
1 tablespoon roughly chopped chives
50g salmon roe
Bring a large pot of salted water to the boil for the pasta.
Heat a large pan over a medium/ high heat. Once hot add the onion and saute while stirring for a couple of minutes. Add the mushrooms and continue to saute until the onion and mushrooms begin to turn golden in colour. Reduce the heat to low, add the garlic and continue to saute for another minute.
Plunge the spaghetti into the boiling water and cook as per the manufacturer's instructions.
In a separate bowl whisk together the eggs, miso, dashi/ stock and lemon juice.
Once the pasta is cooked, strain out the water and add to the pan with the mushrooms. Place the pan over a low heat and add the miso/ egg mixture and use a wooden spoon to carefully fold everything together (If you can toss a pan this is the best). Have a taste and adjust with sea salt and cracked pepper as needed.
Serve right away with the sesame seeds, pecorino, chives, nori and a healthy dollop of salmon roe.
Our friends at Wine Selectors suggest pairing this dish with a Pinot Noir.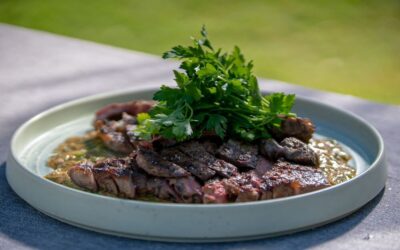 Ingredients: Serves: 2-4 2 x 250g T-bone or Rump steak Sea salt 2 Tbsp Olive oil 2 Tbsp Butter 1 brown onion, diced 2-3 cloves garlic, finely chopped 1 tsp dried chilli flakes 2 tsp dried mixed herbs 40 'twists' cracked black pepper 2 chicken stock cubes, crumbled 2-3...