Wagyu Carpaccio, Enoki Mushrooms and 62 Degree Egg Emulsion
Laura Sharrad
Ponzu:
Mirin 80g
Rice vinegar 50g
Soy sauce 400g
Bonito flakes 50g
Lemon juice 50g
Yuzu juice 50g
Kombu 1 each 
Salted Egg Emulsion:
62 degree celsius egg yolk 5 each
Grapeseed oil 200g
Vegan dashi 50g
Pickled Padron Chilis:
Padron chilis grilled 100g
Soy sauce 100g
Rice wine vinegar 100g
Sugar 100g
Mayuru Wagyu Rump:
Sliced mayura rump (you could use tenderloin or topside)
Nori Tuile:
Toasted nori sheets
Rice puree
Rice Puree:
Rice 100g
Water 500g
Salt 10g
Garnish:
Micro chive
The nori tuile
Pickled padron chile
Ponzu:
Place all the ingredients in a container, let it marinade overnight then strain and season with lemon and yuzu juice.
Salted Egg Emulsion:
Place the egg yolks and vegan dashi in a bowl then add the grapeseed oil slowly and make as a mayonnaise.
Pickled Padron Chilis:
Char grill the padron chilis then set aside, make a pickling juice, place the soy sauce, rice wine vinegar and sugar in a pot and bring to boil the pour over the chilis and let it cool down.
Mayuru Wagyu Rump:
Season with olive oil and smoked salt
Nori Tuile:
Place the rice, water and salt in a pot, let it cook until over done then blend them and brush onto the nori sheet and dry them overnight. Heat oil in a pot until 190c then fry the dried nori sheet until puffed.
Garnish:
Garnish with micro chive, the nori tuile and pickled padron chile
Our friends at Wine Selectors suggest pairing this dish with a Pinot Noir.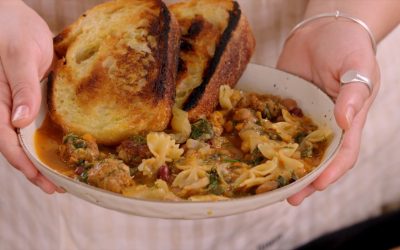 Ingredients: 4 Spicy Italian Sausages Packet of Farfalle Pasta 1 Leek 1 Carrot 1 Onion 2 Garlic 2 cups Shredded Cabbage 1 Chopped Silver Beet 1 400gm Tinned Beans 1 tsp Cumin powder 1 tsp Coriander  powder 1tsp Paprika powder 2 tbsp Tomato Paste Stock of your choice...