Wagyu Steak Sandwich
Mike Reid
Serves 1
150g Wagyu Thick Skirt
1 Hens Egg
½  Tomato, Sliced
Sprigs of fresh Watercress
½  Onion, Sliced & Sautéed
½  Tbsp Dijon Mustard
1 Tbsp Spiced Tomato Chutney
1 Medium sized seeded baguette cut in half
Grill the wagyu from room temperature, seasoning generously with salt on your bbq for about 8 minutes making sure your coals are not too hot, you want a nice medium heat. Than rest for at least 6 minutes in warm place
Over a low heat fry your eggs till the white is cooked but ensuring you have a beautiful runny yolk take
Assemble your sandwich basting the bread with your mustard then adding the chutney, the beef cut in half and all your other bits, finishing with the watercress and the chips on the side.
Our friends at Wine Selectors suggest pairing this dish with a Shiraz.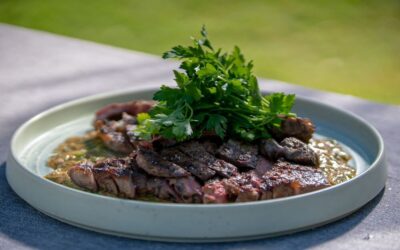 Ingredients: Serves: 2-4 2 x 250g T-bone or Rump steak Sea salt 2 Tbsp Olive oil 2 Tbsp Butter 1 brown onion, diced 2-3 cloves garlic, finely chopped 1 tsp dried chilli flakes 2 tsp dried mixed herbs 40 'twists' cracked black pepper 2 chicken stock cubes, crumbled 2-3...