Wasabi Prawns Mango and Watermelon Salad
Ben O'Donoghue
12 large king prawns peeled and deveined tail left on
½ pack kadayif pastry
500mls vegetable oil for frying
1lg ripe mango
2 thick wedges of water melon
½ cup Japanese mayo
1 tube wasabi paste
coriander to garnish
1 red chilli julienned
2 x limes cut into wedges
Smear each prawn with wasabi paste, just a little. Lay out lengths of the pastry and roll the prawns in the strands and set aside
Combine the mayonnaise and wasabi to taste – I use around 2 teaspoons – dollop the  wasabi mayonnaise on the plate  and arrange the fruit around the mayonnaise.
Heat the vegetable oil in a wok or saucepan over medium heat. Fry the prawns for 2 minutes, then drain and season with salt and pepper.
Serve the prawns on top of  the fruit and mayonnaise garnish with the coriander leaves, chilli and lime halves.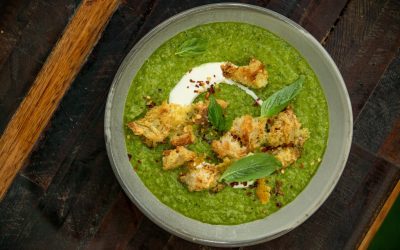 Ingredients: 2 heads broccoli 1 large leek, halved lengthwise, rinsed 2 tbsp extra virgin olive oil 1 head garlic, unpeeled 4 cups (1L) chicken or vegetable stock 120g baby spinach leaves 125g sour cream, plus extra to serve Chilli flakes & herbs, such as basil,...