Whole Baked Brie with Nuts and Honey
Ben O'Donoghue
Whole Brie or similar cheese
Baking paper
Nuts of choice, roughly chopped
1tsp Honey
Celery, sliced
Grissini sticks
Carrot, sliced
Fennel , sliced
Bake the cheese in the oven for 20minutes on 180C.
Remove and slice off the lid of the cheese, top with honey and nuts
Serve alongside sliced vegetables and grissini sticks.
Our friends at Wine Selectors suggest pairing this dish with a Pizzini Prosecco 2018 or De Bortoli Bella Riva Sangiovese 2015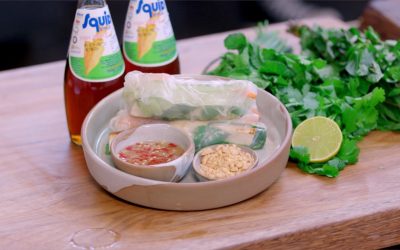 This recipe is brought to you by our friends at Asian InspirationsIngredients:Serves: 8 Prep Time: 10 mins Cook Time: 15 mins Main Ingredients: 1 packet rice paper 150g rice vermicelli noodles 1 bunch coriander 1 bunch Thai basil 1 bunch mint 1 bunch garlic chives 1⁄4...