Whole Roasted Cauliflower with Ocopa Sauce
Charlie Carrington
1 cauliflower
40 ml (1¼ fl oz) olive oil
120 g (4½ oz) feta, crumbled (can be Danish, regular or even almond feta)
Ocopa Sauce
1 heaped tablespoon mirasol chilli powder (or normal chilli powder)
1 heaped tablespoon aji amarillo paste
1/2 White onion, roughly chopped
1 garlic clove
75g (2¾ oz) toasted peanuts
70ml (2¼ fl oz) evaporated milk
75ml (2½ fl oz) milk
60g (2 oz) queso fresco (or feta)
30g (1 oz) tostadas or biscuits (crackers)
Preheat the oven to 200°C (400°F) and cover a baking tray with baking paper. Find a saucepan large enough to fit the entire cauliflower, fill it with salted water and bring it to a boil. Submerge the whole cauliflower in the boiling water for 4 minutes.
Using tongs, carefully remove it and place it on the prepared baking tray. Wait for the cauliflower to cool a bit, then rub the olive oil into the cauliflower until it is coated nicely. Bake it in the oven for 25 minutes or until slightly burnt on the outside.
Ocupa Sauce
To make the ocopa sauce, blitz all the ingredients except the biscuits in a blender until smooth. Throw in the crackers at the end to thicken it; it needs to be thick enough that it will hold a shape.
When the cauliflower is done, put the ocopa sauce in a piping bag and then go crazy drawing lines all facing different directions on the cauliflower. Crumble the cheese over the cauliflower and enjoy. If you're really game, dig in with your hands!
Only difference is sprinkle everything crazily on the plate not on the cauliflower and place the whole cauliflower on top
Cauliflower is the hero of this dish, which makes an impressive vegetarian showstopper. Aji amarillo paste, often mixed with cheese, is a staple of Peruvian cooking, and adds richness and depth to a range of sauces, including ocopa. Aji amarillo paste is easily sourced at established farmers' markets or from online sellers of chilli peppers.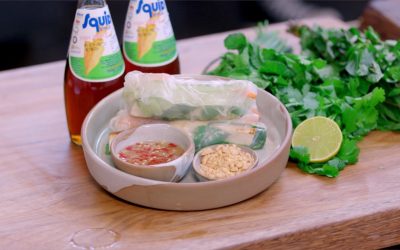 This recipe is brought to you by our friends at Asian InspirationsIngredients:Serves: 8 Prep Time: 10 mins Cook Time: 15 mins Main Ingredients: 1 packet rice paper 150g rice vermicelli noodles 1 bunch coriander 1 bunch Thai basil 1 bunch mint 1 bunch garlic chives 1⁄4...