Wood Cooked Bananas
Mike Reid
4 Lady Finger Bananas
Woodchips for smoking in a fire or hibachi
Dulce De Leche Creme:
2 Tbsp Dulce de leche
200ml Cream
Chocolate Sauce:
150ml full-fat milk
150ml double cream
300g dark chocolate, broken into pieces
1 tsp vanilla extract
To Serve:
Cook your bananas in their skin, directly onto the coals until blackened.
Place the milk and cream in a saucepan. Heat until just boiling. Add the chocolate and vanilla, then remove from the heat and stir until melted and runny.
Whip the cream for the dulce de leche cream until soft peaks have formed, gently fold in the dulce.
To serve, cut open the banana to expose the flesh, serve with dulce creme and a small bowl of the chocolate sauce.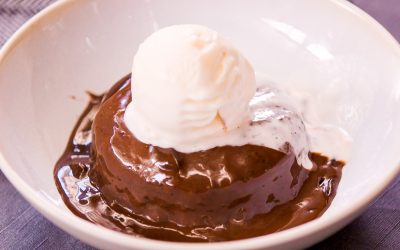 Recipe brought to you with the help of our friends at JC's Quality FoodsIngredients: 250g Ground almonds  250g Chocolate Sauce  220g Caster Sugar  5 Free range eggs 15g Baking powder  20g cocoa powder  For the chocolate sauce:  150ml Whole milk 150ml Thicken cream...