50g Dried squid, soaked overnight then drained
50g Dried anchovies, soaked overnight then drained
50g Dried shrimp, soaked overnight then drained
50g Dried scallops, soaked overnight then drained
500g Canola or vegetable oil
100g Garlic cloves, peeled and finely chopped or crushed
150g Oyster sauce
50g Tamari (or an alternative gluten free soy sauce)
50g Stevia / Monk fruit, granulated
3-5 Birds eye chilies, finely chopped
25-50g Chili oil
10-25g Chili flakes
150g Fried shallots
For the XO Sauce, in a food processor, place the squid, anchovy, shrimp and scallops and blitz until a fine dice.
Heat the oil in a wok over medium high heat, adding oil and garlic. Fry while stirring consistency until light golden.
Add the blitzed seafood mixture and stir-fry for 1-3 minutes.
Add oyster sauce and stevia, stir thoroughly, reduce the heat to the lowest possible setting. Cook for up to an hour checking every ten minutes or so, to ensure mixture isn't burning and stir to ensure even cooking. If necessary, remove impurities on the surface by skimming carefully.
Finally, add chili components and fried shallots, stir through for approximately 1 minute before removing from heat. Allow cooling before bottling sauce.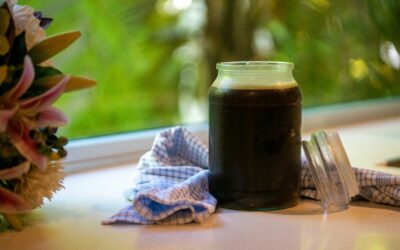 Ingredients: 2 cup caster sugar 2 cups soy sauce 1 cup shao-hsing wine 3L water 2 inch piece ginger 8 cloves garlic 6 spring onions, 5cm batons 8 star anise 8 coriander seeds 4 cinnamon quills 4 cloves 2 pork trotters Method: Place an even layer of sugar in a large...