Yoghurt, Pistachios & Honey
Khanh Ong
250g ginger nut biscuits
150g pistachios
1 tsp ginger powder
1⁄3 cup of melted butter
1 cup cup cream cheese softened
1 1⁄4 cup Jalna Greek yoghurt
1⁄2 cup honey
2 tbsp lemon juice
1 tbsp gelatin powder
1⁄3 cup of water
Garnish
Crushed pistachios
Fresh honeycomb
In a food processor blitz biscuits, pistachios and ginger powder.
Pour in the butter to form a wet sand like consistency.
Pack crumbs into a lined spring form tin
Cream the cream cheese in a stand mixer then add yoghurt honey and lemon juice.
Bloom the gelatin in the water then heat until melted.
Add to the stand mixer.
Pour over the crumbed tin.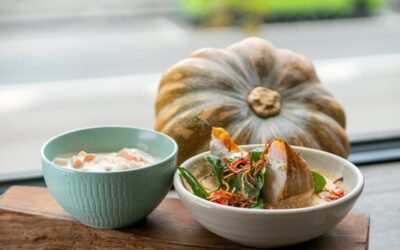 Ingredients: Serves: 2 Ingredients: 2x Wedges of Pumpkin (skin on) 1x can of coconut milk 30ml Soy Sauce (to taste) 1 tbsp of Tom Yum Paste 1 chilli, finely sliced 1 punch of Thai basil 1 tbsp fried shallots Bubur Cha Cha: Kara coconut cream 2litres Pandan leaves 6pcs...