Yoghurt, Pistachios & Honey
Khanh Ong
250g ginger nut biscuits
150g pistachios
1 tsp ginger powder
1⁄3 cup of melted butter
1 cup cup cream cheese softened
1 1⁄4 cup Jalna Greek yoghurt
1⁄2 cup honey
2 tbsp lemon juice
1 tbsp gelatin powder
1⁄3 cup of water
Garnish
Crushed pistachios
Fresh honeycomb
In a food processor blitz biscuits, pistachios and ginger powder.
Pour in the butter to form a wet sand like consistency.
Pack crumbs into a lined spring form tin
Cream the cream cheese in a stand mixer then add yoghurt honey and lemon juice.
Bloom the gelatin in the water then heat until melted.
Add to the stand mixer.
Pour over the crumbed tin.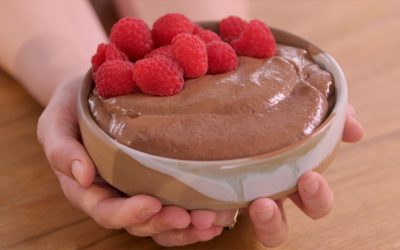 Ingredients: Plant-based milk Chia seeds Cacao powder Maple syrup Vanilla extract or paste Method: Combine all of the ingredients in a high-speed blender and blend until smooth. If you prefer to eat the seeds whole, you can skip the blender and combine the ingredients...