Yoghurt, Pistachios & Honey
Khanh Ong
250g ginger nut biscuits
150g pistachios
1 tsp ginger powder
1⁄3 cup of melted butter
1 cup cup cream cheese softened
1 1⁄4 cup Jalna Greek yoghurt
1⁄2 cup honey
2 tbsp lemon juice
1 tbsp gelatin powder
1⁄3 cup of water
Garnish
Crushed pistachios
Fresh honeycomb
In a food processor blitz biscuits, pistachios and ginger powder.
Pour in the butter to form a wet sand like consistency.
Pack crumbs into a lined spring form tin
Cream the cream cheese in a stand mixer then add yoghurt honey and lemon juice.
Bloom the gelatin in the water then heat until melted.
Add to the stand mixer.
Pour over the crumbed tin.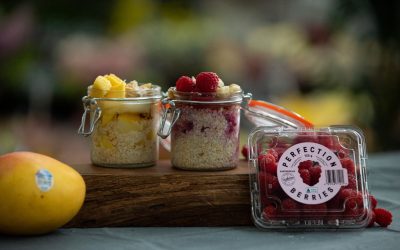 Can also be made with mangos.  Ingredients: 100g Raspberries, frozen (we use Raspberries from Perfection Fresh) 150ml Water 60g Rolled Oats  1 Tbsp Honey, organic  1 Tsp Peanut Butter Roasted nuts to garnish and fresh raspberries  Method: Mix the oats, water and...