1/2 cup Ensure vanilla powder
1 kg Greek-style yoghurt
1 cup blackberries
1 tsp vanilla extract
1/4 cup slivered almonds
1/4 cup honey
Line a shallow baking tin with baking paper (extend paper above edges).
Combine yoghurt, vanilla extract and Ensure in a large mixing bowl. Whisk well until lump-free.
Stir in honey until well combined.
Gently fold through blackberries and almonds.
Transfer the mixture to the lined baking tin and freeze for 5-6 hours or until frozen.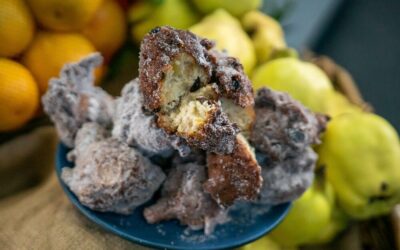 Ingredients: 150g raisins 100ml grappa 400g plain flour 10g yeast 115g sugar 2 eggs 150ml milk 30g toasted pine nuts Zest 1 orange Zest 1 lemon 50g chopped candied fruit Canola oil, for frying Method: Soak the raisins in grappa and let them plump up for 5  minutes,...