Zeppole Di Veneto
Laura Sharrad
150g raisins
100ml grappa
400g plain flour
10g yeast
115g sugar
2 eggs
150ml milk
30g toasted pine nuts
Zest 1 orange
Zest 1 lemon
50g chopped candied fruit
Canola oil, for frying
Soak the raisins in grappa and let them plump up for 5  minutes, then drain well and set aside.
In a large bowl, combine the flour, yeast, sugar and salt. Add the eggs and lukewarm milk and work them into the dry ingredients. Next stir in the raisins, pine nuts, grated lemon zest and candied citrus peel.
Knead the dough until it looks even, elastic and smooth (add a little more milk if it appears too dry; it should be fairly sticky). Cover with a clean tea towel and leave to rise in a dry, warm place for about 2 hours, or until it has doubled in volume and the surface is full of tiny bubbles.
Fill two-thirds of a medium, high-sided frying pan with canola oil. Place it over a medium heat and wait until it reaches a temperature of 180°C.  Using 2 tablespoons, grab a spoonful of dough and slide it into the hot oil. Fry 6–7 frìtole at a time, turning with a slotted spoon, until dark brown on all sides. Drain with the slotted spoon and transfer to a large plate covered with kitchen paper.
Leave the frìtole to cool slightly before rolling them in plenty of granulated sugar. Enjoy them warm or within 12 hours of frying.
Our friends at Wine Selectors suggest pairing this dish with an Off Dry Riesling.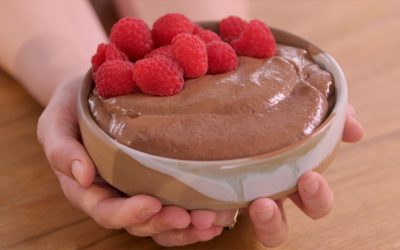 Ingredients: Plant-based milk Chia seeds Cacao powder Maple syrup Vanilla extract or paste Method: Combine all of the ingredients in a high-speed blender and blend until smooth. If you prefer to eat the seeds whole, you can skip the blender and combine the ingredients...