Zucchini Frittata
Mike Reid
Recipe brought to you with the help of our friends at Velisha Farms
2 tbsp olive oil
400g Zucchini, grated
1 large red onion, finely chopped
8 large free-range eggs
100ml Thick cream
½ tsp freshly grated nutmeg
Handful mint leaves, finely chopped
3 garlic cloves, sliced
150g spinach, roughly chopped
120g goats' cheese, roughly chopped
salt and freshly ground black pepper
Heat the olive oil in a large ovenproof frying pan over a medium-low heat. Toss in the red onion and cook for 5 minutes.
 Meanwhile, crack the eggs into a large bowl. Add the cream, nutmeg, chopped mint and some salt and pepper and whisk well. Set aside.
 Add the garlic to the pan and cook for 2 minutes, then toss in the zucchini and spinach and sauté until it begins to wilt. Pour the cream mixture into the pan, stir around for one minute, then remove from the heat.
 Dot the goats' cheese evenly over the surface of the frittata.
Our friends at Wine Selectors suggest pairing this dish with a Pinot Grigio.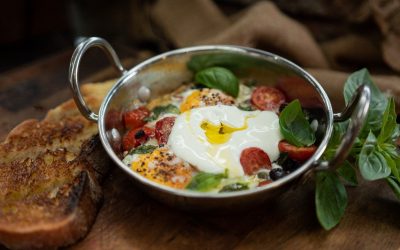 Ingredients: 9 cherry tomatoes, halved 1 small garlic clove, thinly sliced 2 tsp good-quality olive oil 1 tsp balsamic vinegar 5 basil leaves, torn, plus a few extra to serve if you like 5 pitted olives, sliced 2 large free-range egg 1 tsp small capers, rinsed salt...