Zucchini Fritters
Mike Reid
Recipe brought to you with the help of our friends at Velisha Farms
120g zucchini, coarsely grated
1/2 tsp sea salt
1 large free-range egg
1/2 tsp baking powder
3 tbsp plain flour
5 tsp ground cumin
50g frozen peas, thawed
Vegetable oil, for frying
Freshly ground black pepper
Mango Chutney Yoghurt
2 tbsp plain yoghurt
1 tsp mango chutney
Season the zucchini with sea salt and set aside.
Whisk together the egg, baking powder, flour and cumin in a large bowl and season with black pepper.
Squeeze the excess water out of the zucchini over the sink, then add the zucchini and peas to the batter.
Heat enough oil to just cover the bottom of a large frying pan, over a medium-high heat. When the oil just shimmers, drop in heaped tablespoons of the zucchini mixture, flattening them with the back of the spoon to make fritters.
Fry each one for 1–2 minutes, or until golden-brown on each side. If you need to cook in batches in a smaller pan, set the fritters to drain on a plate lined with kitchen paper.
Our friends at Wine Selectors suggest pairing this dish with a Sauvignon Blanc.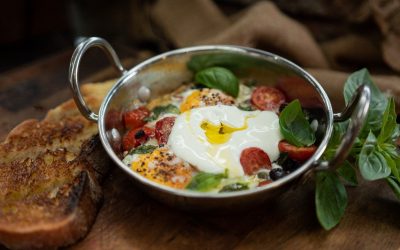 Ingredients: 9 cherry tomatoes, halved 1 small garlic clove, thinly sliced 2 tsp good-quality olive oil 1 tsp balsamic vinegar 5 basil leaves, torn, plus a few extra to serve if you like 5 pitted olives, sliced 2 large free-range egg 1 tsp small capers, rinsed salt...