Albondigas – Tapas Spanish Meatballs
Elena Duggan
500g Pork mince
500g Veal mince
150g Almond Meal
150g (1lge) Spanish onion, finely diced
4 cloves Garlic, crushed
1-2 Eggs
100g Manchego cheese (Parmesan substitution if unavailable), finely grated
25g / ½ bunch Parsley, leaves only, finely chopped
50g-100g Beef stock
Salt, to taste
Pepper, to taste
EVOO
Sauce Ingredients
150g (1lge) Spanish onion
1 can Crushed tomatoes
150g Sherry
150g Beef stock
10g Sweet paprika
10g Smoked paprika
Salt, to taste
Pepper, to taste
Optional to Serve
Slivered almonds
Parsley leaves only, finely chopped
In a large bowl, add all ingredients and first egg only and 50g stock only. Mix together thoroughly, if mixture isn't holding easily, add second egg and additional stock and mix through with hands.
Keep a small bowl of water on standby to wet hands before rolling. Roll mixture into bite size meatballs. Place on a tray in the fridge until ready to cook.
Heat oil in non-stick fry pan to a med-high heat. Cook meatballs in batches so as not to overcrowd pan, this will ensure even cooking and ease of turning. You're looking for an even golden, slight crust on the meatballs, up to ten minutes per batch. Put aside until all cooked.
Once all meatballs removed from pan, deglaze pan with sherry. Dislodge any sediment with your silicon spatula. Add remaining ingredients and simmer over low for up to 15minutes, reducing slightly. Taste and adjust seasoning.
Return meatballs to sauce to just heat through before serving immediately.
Substitute Ingredients
Replace veal with beef if preferred, or all pork as well.
Substitute Equipment
If you'd prefer, you can blitz ingredients briefly in a food processor to combine – however too long may tighten the protein too much and end up with very firm meatballs.
Waste Tips
Meatballs and sauce freeze well and can be defrosted and reheated at a later stage
Grain Free
Gluten Free
Refined Sugar Free
Sugar Free – Low Fructose
Dairy Free, optional if you leave out cheese
Paleo Friendly
Ketogenic Friendly
BulletProof Friendly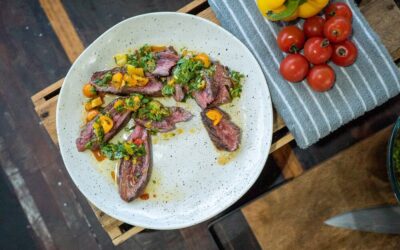 Ingredients: Serves: 4 800g Hanger Steak Sea Salt 1 small yellow pepper, seeds removed, roughly chopped 6 Yellow baby Tomatoes 1 small red chilli, seeds removed ½ tsp dried flaked chillies 2 Garlic cloves, peeled 20g fresh parsley, including any tender stalks 10g each...