Asian Chicken Slaw with Crispy Noodles
Elena Duggan
250g Chicken breast, shredded (utilise leftover, pre-roasted or barbecued chicken)
250g Wombok cabbage, shredded
150g Carrots, shredded
150g Red capsicum, finely strip sliced
50g Bean sprouts
25g Spring onions, finely sliced on an angle
2-3 Black Sesame Wraps, finely sliced
Peanut oil and sesame oil to drizzle
To Serve:
Dressing:
25g Peanut oil
25g Sesame oil
50g Rice vinegar
25g Sweet chili sauce (MMK Recipe on website)
25g Tamari
Stevia, to taste
Preheat a non-stick fry pan to medium-high on the stove top.
Slice wraps into 5-10mm strips, drizzle over peanut and sesame oil and toss through to coat.
Stir-fry wrap strips until toasted and crispy – alternatively these could be toasted in an oven at 160° Celsius for up to 15 minutes, keeping a close eye to ensure even toasting and no burning.
Make dressing by mixing all ingredients in a jug until thoroughly combined. Adjust sweetness with stevia. Set aside.
Assemble salad by either toss together in a big bowl, or layering on a platter. Dress generously with mixed dressing. Top with crispy 'noodles' and serve.
Dairy free
Gluten free
Vegetarian – optional, utilise tempeh or tofu if desired – add nuts for additional protein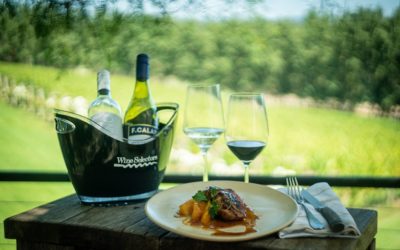 Ingredients: 4 duck breast 1 tablspoon brown sugar ½ tablespoon salt ¼ bunch thyme 1 tsp five spice butter garlic Sauce 1/3 cup sugar 1/3 cup fresh orange juice (from 1 to 2 oranges) segments of one orange 2 tablespoons white-wine vinegar 1/8 teaspoon salt 2 to 4...