Baba Ganoush
Charlie Carrington
2 large eggplants (aubergines)
20ml (¾ fl oz) grape seed oil
Juice of 2 lemons
½ large garlic bulb, broken into cloves and peeled
150g tahini
50ml extra virgin olive oil
1 teaspoon salt
1 tablespoon paprika
Mint olive oil
1 bunch mint, leaves picked
100ml olive oil
Savoury halva
100g (⅔ cup) sesame seeds
50g (⅓ cup) almonds
60g pitted dates, finely sliced
110g tahini
First make the baba ghanoush. Preheat the oven to 200°C (400°F). Put the eggplants on a baking tray and roast for 20 minutes. Remove from the oven and raise the temperature to 230°C (445°F), then split the eggplants in half and place them back on the tray skin side down. Brush them with a touch of grape seed oil and place back into the oven for another 20 minutes.
To make the savoury halva, toast the sesame and the almonds separately in an oven with dry heat at 180°C (350°F) – watch the sesame, as it burns quickly. You are just looking to bring a bit of life to the sesame and almonds. Next, in a blender coarsely blitz the almonds and sesame. Add in the dates and tahini and bring together on a low speed, but don't overwork it. It should be moist but crumbly, and if you press it between your hands it should stick to itself.
Using a sharp knife, slice the mint into the thinnest, most hair-like strands possible and then marinate in the olive oil for at least 10 minutes.
When the eggplant has roasted, scoop the flesh out into a blender and blend with the remaining ingredients except the paprika until smooth.
To plate, spoon a very generous portion of the baba ghanoush onto a plate and create a well in it. Drizzle the mint oil around the well and place the savoury halva inside. Dust with the paprika.
A sweet Iraqi treat, halva is usually made from tahini and hot sugar syrup and cuts like a crumbly cake. With this recipe, I've used traditional sweet halva as a savoury ingredient, counteracting the slight bitterness of the tahini with dates. You can buy halva at Middle Eastern grocers.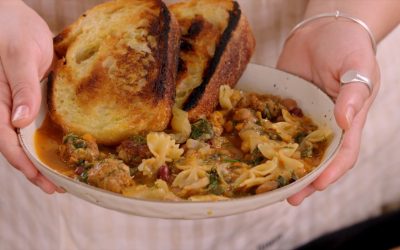 Ingredients: 4 Spicy Italian Sausages Packet of Farfalle Pasta 1 Leek 1 Carrot 1 Onion 2 Garlic 2 cups Shredded Cabbage 1 Chopped Silver Beet 1 400gm Tinned Beans 1 tsp Cumin powder 1 tsp Coriander  powder 1tsp Paprika powder 2 tbsp Tomato Paste Stock of your choice...