BBQ Morton Bay Bug Skewers
Ben O'Donoghue
8 Moreton Bay bugs
200g thinly sliced dried pancetta
8 bay leaves
4 ripe figs, halved
2 tablespoons olive oil
Juice of 1 lemon
Prepare your barbecue for direct grilling over a high heat.
Prepare the bugs by removing the meat from the shells. To do this, remove the head, use a pair of scissors to cut along each side under the tail, then pull out the flesh.
Take 4 metal skewers and thread the following onto each skewer: a bug's tail, some thinly sliced pancetta, a bay leaf and half a fig, then repeat the sequence to complete the skewer.
Brush the skewers with a little oil and place over a high heat to cook until the bugs are translucent, the thin pancetta is crisp and the figs are oozy and caramelised.
To serve, dress with a squeeze of lemon juice.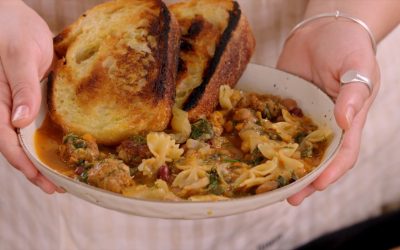 Ingredients: 4 Spicy Italian Sausages Packet of Farfalle Pasta 1 Leek 1 Carrot 1 Onion 2 Garlic 2 cups Shredded Cabbage 1 Chopped Silver Beet 1 400gm Tinned Beans 1 tsp Cumin powder 1 tsp Coriander  powder 1tsp Paprika powder 2 tbsp Tomato Paste Stock of your choice...