BBQ Prawns With Spicy Salsa Verde
Georgia Barnes
1 bunch basil
1 bunch parsley
1 bunch mint
1-2 cloves garlic, roughly chopped
2 jalapeños or green chillies, sliced
1 tbsp capers
1 tbsp caper brine
4 quality anchovy fillets
1 lemon, juiced
1/3 cup extra virgin olive oil
Salt and pepper
24 king prawns, peeled and butterflied
To make the salsa verde, place all ingredients into a food processor. Pulse to desired consistency. Season to taste with salt and pepper. You might also like to adjust the acidity or spiciness with a little extra lemon juice or chilli.
Place the prepared prawns into a large bowl. Pour over half the salsa verde and toss to coat well.
Preheat barbecue. Once hot, grill prawns for 1-2 minutes each side until cooked through. Transfer prawns to a serving plate and drizzle with remaining salsa verde.
Garnish with fresh herbs and jalapeños and enjoy!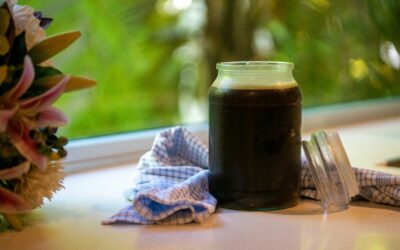 Ingredients: 2 cup caster sugar 2 cups soy sauce 1 cup shao-hsing wine 3L water 2 inch piece ginger 8 cloves garlic 6 spring onions, 5cm batons 8 star anise 8 coriander seeds 4 cinnamon quills 4 cloves 2 pork trotters Method: Place an even layer of sugar in a large...