Beef Chilli Con Carne
Jason Johnson
Fries or potatoes for homemade fries
Bell peppers
Shortcrust pastry, bread
Loaded fries
Select your favorite fries (sweet potato or white) can you even use the oven baked ready to go fries to save time.
Crank the oven up 180-200 and place the fries on a baking dish, season with olive oil spray salt, pepper, any dried herbs and or paprika. Roast for 25-30 minutes.
Meanwhile reheat your chilli con carne in a pot of simmering water for 10 minutes.
Make your guacamole, once the chips are done, put in a bowl, pour chilli con carne mix over chips and garnish with cheese, guacamole and spring onions.
Super healthy loaded fries.
Stuffed bell peppers
Cut your bell peppers in half long ways and spoon the cold chilli con carne mix into the bell pepper, roast on high heat for 20 minutes, sprinkle cheese for the last 5 minutes of cooking and transfer to the plate.
Depending on the size of the bell pepper, two small halves is good for one serve with a side garden salad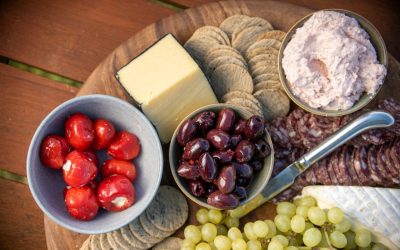 Ingredients: Hard Cheese Soft Cheese Blue Cheese 1 baguette  A bunch of Green Grapes Honeycomb Salami (sliced) Smoked Salmon Dip Artisan Crackers Beetroot dip Poppy Seed Skordalia Dip Dukkah Stuffed Bell Peppers Marinated Olives (pitted) Method: There are no rules or...