Ingredients A
500g Gravy beef (cubed)
 stalk lemongrass – bruised
1tsp salt
1 in ginger, sliced
Enough water to cover the beef
Ingredients B
2 pc Onions, rough chopped
4 cloves Garlic
1 tbsp Ginger (grated)
2 tsp Galangal powder
2 stalks Lemongrass – white part
only, finely sliced
1⁄2 tsp Turmeric powder
5 tbsp Oil
Ingredients C
1 tbsp Coriander powder
2 tsp Fennel powder
1 tsp Cumin powder
Remaining Ingredients
1 cup TCC Premium Coconut milk
1 stick Cinnamon
2 tbsp Yeo's Sambal Oeleck
1 tsp Salt
1 tbsp Sugar
1⁄2 cup Water
To Prep: In a blender process ingredients B.
Put ingredients A in a saucepan and let it simmer for 10-15 mins while we prepare the rest of the recipe.
Heat a heavy saucepan. Dry fry ingredients C for a minute and pour into a bowl for later.
Into the hot pan, add ingredients B, and stir fry until oil splits from the paste, stirring often for around 5 minutes.
Add roasted ingredients C, pre-boiled beef, cinnamon stick and TCC Premium Coconut Milk and stir.
Bring to boil and reduce to gently simmer for 45 mins or until meat is tender.
There is not a lot of gravy to this dish, however if required, add enough water as required to continue cooking.
Add Yeo's Sambal Oeleck, salt and sugar.
Serve with steamed rice.
For chef quality results, we recommend using Anolon cookware!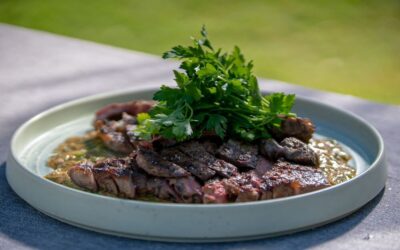 Ingredients: Serves: 2-4 2 x 250g T-bone or Rump steak Sea salt 2 Tbsp Olive oil 2 Tbsp Butter 1 brown onion, diced 2-3 cloves garlic, finely chopped 1 tsp dried chilli flakes 2 tsp dried mixed herbs 40 'twists' cracked black pepper 2 chicken stock cubes, crumbled 2-3...