Ben's Grandma Apple Pie
Ben O'Donoghue
1 kg granny smith apples (peeled, cored and sliced into eighths)
1 cup caster sugar, plus extra to sprinkle juice of
1⁄2 lemon
3 whole cloves
1 star anise
Pastry
3 cups plain flour
1/3 cup custard powder
1 cup icing sugar
pinch of salt
175 g butter
175 g lard
4 egg yolks
To make the pastry, place all the ingredients except the eggs in a food processor and blend until the mixture resembles coarse breadcrumbs. Add 3 of the egg yolks and pulse until the pastry just comes together. Divide the pastry in half, and shape into two flat discs. Cover in plastic wrap and refrigerate for 2 hours.
Preheat the oven to 180°C.
Place the slices of apple in a large saucepan, along with the caster sugar, lemon juice and spices. Cook for 10–15 minutes, or until the apple slices are just tender and hold their shape.
When the pastry is ready to roll out, place each disc between two sheets of baking paper and roll to a thickness of around 3 mm.
Place one of the circles of pastry on a baking tray, leaving it on its sheet of baking paper. Pile the apple mixture in the centre of the pastry, leaving a 1 cm border around the edge. Lightly whisk the remaining egg yolk to make an egg wash, and brush along the border.
Top the apple mixture with the remaining pastry circle and press down. Use a sharp knife to trim the edge of the pastry into a neat circle, leaving a border of around 2 cm from the apple. Pinch the edges together with your thumb and forefinger.
Brush the top of the pie with the remaining egg wash and bake for 30 minutes. Remove from the oven to sprinkle with caster sugar, then return to the oven to cook for another 15 minutes, or until golden and glazed.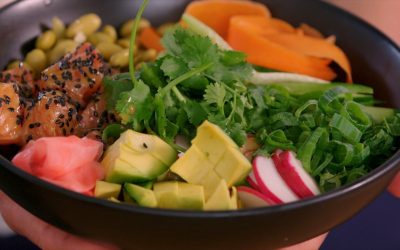 This recipe is brought to you by our friends at Healthy Life.Ingredients: 2 salmon fillets, skin off 1 cup edamame beans, frozen and blanched  1 Lebanese cucumber, sliced thinly 1 carrot, ribboned 1 avocado, diced 1/2 bunch spring onions, sliced 1 cup cooked brown...