Berry Grape Jam and Macadamia Nut Butter Toast
Jemma O'Hanlon
Makes 2 small jars of jam and nut butter
Jam
¼ cup fresh Australian raspberries
¼ cup fresh Australian blackberries
¼ cup fresh Australian strawberries
¼ cup fresh Australian blueberries
¼ cup fresh Australian red seedless grapes
Splash Water
¼ cup chia seeds
1 tbsp freshly squeezed juice from an Australian lemon
1 tbsp honey
Macadamia Nut Butter
½ cup Australian macadamia nuts
To serve
Sourdough fruit toast
Slice the strawberries and grapes into quarters.
In a saucepan over medium to high heat, place the fruit and a slash of water, allow them to come to the boil, then reduce the heat while stirring, allowing the fruit to break down. Use a potato masher to gently press on the fruit to crush slightly.
Stir in chia seeds, lemon juice and honey. The mixture should thicken thanks to the chia seeds. Remove from heat when it is a jam-like consistency and leave to rest.
Place the macadamia nuts in a food processor and blend for a couple of minutes, or until the nuts turn into a nut butter consistency. Blend more or less depending on how smooth vs crunchy you like it.
To serve, spread toast with macadamia nut butter. Layer with jam and enjoy.
Tip: If you don't have all types of berries, use what you have equal to 2 cups of fresh Australian berries. The jam and macadamia butter make great all-natural gifts for health-conscious friends!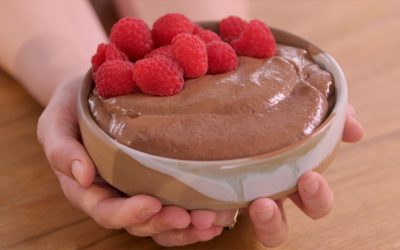 Ingredients: Plant-based milk Chia seeds Cacao powder Maple syrup Vanilla extract or paste Method: Combine all of the ingredients in a high-speed blender and blend until smooth. If you prefer to eat the seeds whole, you can skip the blender and combine the ingredients...