Better-for-you Bircher Muesli
Elena Duggan
250g quinoa flakes (or White quinoa, cooked and drained)
1 Green apple, grated
250ml Fresh or cloudy apple juice (orange is also okay)
250g Jalna Biodynamic yoghurt, extra to serve
¼ tsp cinnamon
1 tsp vanilla paste
Optional to Serve:
Biodynamic yoghurt
Fresh blueberries, sliced
Fresh raspberries
Fresh cherries
Sweet Dukkah
Honey
Chopped nuts
Chopped pepitas and sunflower seeds
Optional:
For a vegan alternative, swap Greek yoghurt for coconut yoghurt.
In a medium saucepan, heat apple juice over a gentle simmer, place quinoa in and stir for 1-2 minutes or until just softened. Remove from heat and set aside to cool.
In an airtight container, place the apple, yoghurt, cinnamon and vanilla. Once cooled at juice and quinoa. Mix thoroughly before leaving in refrigerator, ideally overnight, but at least two hours.
Serve with your favourite fruit, nuts, seeds, as well as honey and additional yoghurt if you desire.
Notes
If you prefer your Bircher a little looser, add more liquid at serving.
Gluten free
Grain free
Moderate Fructose / zero refined sugar
Keto Friendly
Vegetarian
Vegan optional
Pescatarian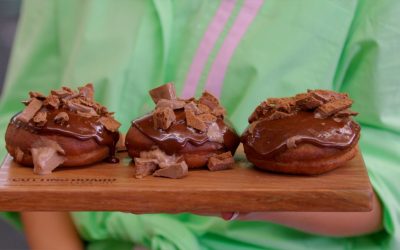 Ingredients: 7 gm (1 sachet) dried yeast 360 gm plain flour 55 gm (¼ cup) caster sugar 150 ml lukewarm milk 40 gm softened butter 1 egg 250 gm milk chocolate, finely chopped 190 gm crème fraîche 70 ml pouring cream For deep-frying: vegetable oil 3-4 Tim Tams, coarsely...