(Bibimbap) Korean Vegetarian Rice Bowl
Chef Karen Chan
4 cups Cooked short medium rice (piping hot)
1 Carrot (julienned)
1 Zucchini (julienned)
8 Dried shiitake mushrooms (rehydrated in warm water for at least 1 hr, sliced)
1 pack Enoki mushrooms, separated
4 Radishes, thinly sliced
1 cup Shelled edamame beans, blanched
2 pcs Fried tofu – julienned
1⁄2 cup Kimchi (cut bite-sized)
1 tbsp Minced garlic
1 stalk Spring onion (sliced)
1⁄4 tsp Korean chilli powder (gochugaru)
4 fresh eggs
Ottogi Gochujang
Yeo's Pure Sesame oil
Salt
Lee Kum Kee Premium Soy Sauce
Cooking oil
Sesame seeds (for garnish)
To Cook
Set aside each type of vegetables on a big plate after cooking.
Heat pan and 1⁄2 tbsp oil. Add carrot and cook briefly for about 20 secs. Season lightly with salt.
Sauté zucchini as above but add a pinch of minced garlic and some green onions. Season with salt.
Sauté shiitake mushrooms as above and season lightly with soy sauce and sesame oil.
Saute enoki mushrooms and lightly season with salt.
To serve:
In a bowl, place 1 cup of piping hot cooked rice. Arrange vegetables and tofu on the rice, to line the side of  the bowl. Keep the centre of the rice clear to place the egg yolk.
Crack an egg and separate the yolk. Gently place the yolk on the piping hot rice in the centre of the bowl.
Drizzle some sesame oil and garnish with sesame seeds and remaining spring onions.
Serve with Ottogi Gochujang for individual taste.
Sprinkle Korean chilli powder (gochugaru) to taste.
Repeat for another 3 servings.
Mix in the egg yolk, Ottogi Gochujang with rice and toppings before eating.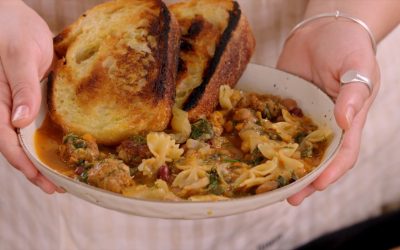 Ingredients: 4 Spicy Italian Sausages Packet of Farfalle Pasta 1 Leek 1 Carrot 1 Onion 2 Garlic 2 cups Shredded Cabbage 1 Chopped Silver Beet 1 400gm Tinned Beans 1 tsp Cumin powder 1 tsp Coriander  powder 1tsp Paprika powder 2 tbsp Tomato Paste Stock of your choice...