Braised Beef Short Ribs with Creamy Mash
Elena Duggan
50g EVOO
2kg Bone in – Beef short ribs, grass fed
2 heads Garlic, cut in half, cross section of head
150g / 4 Celery sticks, 5mm diced
150g / 2med Carrots, 5mm diced
150g / 2med Onions, 5mm diced
50g Tomato paste
500g Red wine
500g Beef stock
4-6 sprigs Thyme
Black pepper, to taste
Salt, to taste
To Serve:
750g potatoes
50g Butter
50g Crème fraiche
White pepper, to taste
Salt, to taste
20g Parsley, finely chopped
10g Chives, finely chopped
1lge Lemon, finely zested, reserve juice
Preheat fan forced oven to 160 Celsius.
Season the ribs with EVOO, pepper and salt on all sides.
In a large non-stick fry pan, over high heat, seal the ribs in batches, on all sides starting the caramelisation process. Transfer the ribs to a large oven dish or casserole dish.
To the fry pan, place the garlic heads cut side down in the beef fat and start begin to soften and brown them in the pan, after 2-3minutes, add onion, carrot, celery, sauté for 2-3 minutes to gain some colour and flavour.
Transfer to oven dish, along with tomato paste, red wine, beef stock and thyme. Liquid should come up approximately ¾ of the way up the ribs when on their side.
Roast for 1½ hours covered or with a lid, after which remove cover or lid and cook for another hour, or until flesh is pulling away from bone lengths, and liquid has evaporated by half.
Test the meat using a spoon or fork to gently push the meat away from the bone, meat may require another 30 minutes – or until desired meat texture is achieved. Remove from oven and set aside at room temp uncovered for up to ten minutes.
Whilst meat is in its final 15-20 minutes oven braising, prepare the potatoes, boil them in a large saucepan until starting to collapse and skin is falling off flesh. Strain immediately and return potatoes to dry pot and turn off heat. Mash well, with butter and crème fraiche, season with pepper and salt to taste.
Evenly portion mash on the bottom of some plates, pile 2-3 ribs per person on top of mash. Spoon over as much or as little sauce and vegetables as you desired.
Sprinkle over parsley, chives and zest to serve.
Gluten free
Grain free
Low fructose, zero refined sugar
Dairy free, optional, replace dairy with EVOO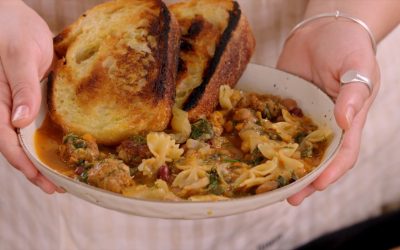 Ingredients: 4 Spicy Italian Sausages Packet of Farfalle Pasta 1 Leek 1 Carrot 1 Onion 2 Garlic 2 cups Shredded Cabbage 1 Chopped Silver Beet 1 400gm Tinned Beans 1 tsp Cumin powder 1 tsp Coriander  powder 1tsp Paprika powder 2 tbsp Tomato Paste Stock of your choice...