Braised Five Spice Pork Belly
Elena Duggan
25g Peanut oil
25g Sesame oil
1kg Boneless pork belly or thick rashers, cut into 3cm cubes
25g Fresh ginger, grated
25g Fresh garlic, finely chopped
2 Oranges or Mandarins, peel only
25g Ikan billis (Malay dried little fish)
50g Stevia/ erythritol, granulated
10g Chinese five spice powder
5 whole Star anise
3x10cm Cinnamon sticks
2lge Bay leaves
2.5g Szechuan peppercorns
100g Chinese cooking wine
50g Tamari
1kg Chicken stock, reduced salt
Additional water to cover the pork belly
To Serve:
6 spring onions, finely sliced
1 long Red chili, finely sliced
6med bok choy, halved and steamed
Steamed white rice
Heat oil in a heavy based pot over medium-high heat.
Add pork, stirring occasionally, and cook for 5-6 minutes until gaining some caramel colour on all sides.
Add ginger, garlic, citrus peel, five spice and ikan billis and cook for 2-3 minutes or until fragrant.
Add remaining ingredients and stir well. Add 25g water if necessary so pork is just submerged.
Cover pot with a lid and reduce heat to a low simmer.
Braise gently for approximately 2 hours, or until pork is tender, fat is translucent and the liquid has reduced to approximately half. Or alternatively cook in a pressure cooker for 45 minutes on high, followed by 10-15 minutes on stove top, high heat to increase caramelisation.
Serve with chili, spring onions, bok choy and steamed rice.
Grain free
Gluten free
HFLC – optional, utilise cauliflower rice instead of regular
Dairy free
Nut free – optional, use only sesame oil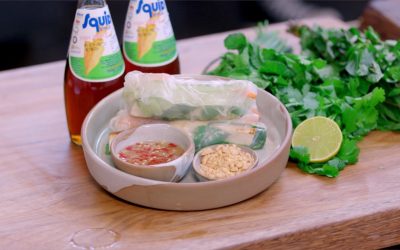 This recipe is brought to you by our friends at Asian InspirationsIngredients:Serves: 8 Prep Time: 10 mins Cook Time: 15 mins Main Ingredients: 1 packet rice paper 150g rice vermicelli noodles 1 bunch coriander 1 bunch Thai basil 1 bunch mint 1 bunch garlic chives 1⁄4...