Buckwheat bowl
Elena Duggan
250g Buckwheat
250g Black or red quinoa
250g Cherries, pitted (frozen or fresh), roughly chopped, reserve some for presentation
100g / 1med Spanish onion, finely diced
100g Hazelnuts, toasted, roughly chopped
50g Baby spinach or rocket
25g / 1 bunch Basil, leaves only, roughly chopped, reserve some for presentation
25g / 1 bunch, Parsley leaves only, roughly chopped, reserve some for presentation
25g / 1 bunch, Mint leaves only, roughly chopped, reserve some for presentation
15g / 1 bunch Tarragon, leaves only, roughly chopped, reserve some for presentation
Dressing
100g EVOO
2 lemons/ 50g Lemon juice and zest
10g Stevia, optional
1 clove garlic, crushed
White pepper, to taste
Salt, to taste
Presentation
100g Jalna Greek yoghurt, dollops at presentation
Prepare a pot of water at 1-1.5L, place buckwheat and quinoa and bring to the boil. Cook until al dente, approx. 15minutes. Drain well, rinse in cold water to rinse of any potential sticky starch. Set aside.
In a jug, thoroughly mix dressing ingredients and set aside.
In a large bowl, toss all ingredients gently together along with dressing. Place on presentation plate and dollop yoghurt, sprinkle cherries and herbs as desired.
Notes
You can add meat or vegetarian proteins if you wish increase nutrient density and satiation.
Feel free to make this dish your own, depending on the season, with your favourite greens.
Add a ½ sliced avocado per person, for increased good fat satiation and slow energy release.
Optional
Leave out any vegetable you're not a fan of and replace with one you like or increase quantity of your favourites.
Gluten free
Grain free
Low Fructose / Minimal sugar
Keto Friendly
Dairy free
Vegetarian
Vegan
Pescatarian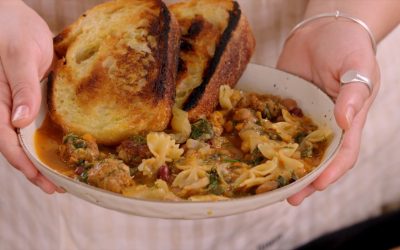 Ingredients: 4 Spicy Italian Sausages Packet of Farfalle Pasta 1 Leek 1 Carrot 1 Onion 2 Garlic 2 cups Shredded Cabbage 1 Chopped Silver Beet 1 400gm Tinned Beans 1 tsp Cumin powder 1 tsp Coriander  powder 1tsp Paprika powder 2 tbsp Tomato Paste Stock of your choice...