Carrot and Walnut Cake
Joel Feren
Serves 12
Oil to grease cake pan
¾ cup Ensure vanilla powder
¾ cup extra virgin olive oil
1 cup self-raising flour
½ cup plain four
½ cup brown sugar
¼ cup golden syrup
4 eggs
1tsp vanilla essence
1tsp baking soda
½tsp cinnamon
2 carrots, peeled and grated
100g walnuts, roughly chopped
Icing
Juice from ½ lemon
½ cup icing sugar
250g cream cheese
½ tsp. vanilla essence
Preheat oven to 150°C.
Grease a 20cm round cake pan with spray oil and line with baking paper.
Sift flour and add Ensure powder, brown sugar, cinnamon and baking soda in a large mixing bowl.
In a separate bowl whisk together eggs, oil, golden syrup and vanilla essence.
Pour the oil mixture into the flour mixture and gently stir until well combined. Fold in carrot and walnuts and combine well.
Pour the mixture into the cake tin and bake in oven for 55 minutes.
Once cooked remove from oven and set aside to slightly cool before removing and placing on wire rack to allow to completely cool.
To make the icing add the cream cheese, lemon juice, icing sugar and vanilla essence to a mixing bowl and stir until well combined.
Spread the icing onto the cake once it's cooled.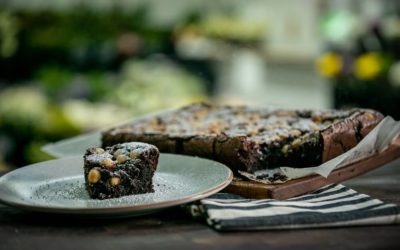 Ingredients: Makes 28 portions 12 eggs 800gm 900gm caster sugar 675gm 68% Madagascar chocolate 675gm-unsalted butter 225gm ground macadamia meal 225gm cocoa powder 300gm macadamia nuts Method: Preheat oven to 150 degrees Grease and line sponge tray with parchment...