Cauliflower Steaks with Miso Sauce
Tobie Puttock
Serves 4
1 tablespoon sesame seeds,
1 teaspoon black sesame seeds
1 sheet nori (edible seaweed)
1 whole medium sized cauliflower
2 tablespoons sesame oil
90g white miso paste
100ml rice wine vinegar
1 tablespoon maple or brown rice malt syrup
Soy sauce
50ml water
2 tablespoons olive oil
Soy sauce to taste
Tablespoon hemp seeds (optional)
Preheat the oven to 160C.
Preheat a griddle pan or a normal pan over a low heat.
Trim the base of the cauliflower and remove any leaves. Slice the cauliflower into four steaks. Rub the sesame oil over the cauliflower steaks being careful not to break them.
Cut 8 pieces of baking paper the same size as the cauliflower steaks and place a piece on each side of each steak so they are enclosed. Cook the cauliflower steaks over a low heat in a grill pan or in a large pan. Unless you have multiple pans, you may need to do this in batches as it's important that the steaks have full flat contact with the heat. After 10 minutes carefully flip the steaks and continue to cook until tender.
While the cauliflower is cooking spread the sesame out onto a baking tray and bake for 3 minutes. Remove and add the nori to the baking tray and continue to cook for a further minute until the sesame seeds are golden and the nori is crunchy. Remove and pop the ingredients into a bowl, once cool enough to handle, use your hands to crush the nori while combining with the sesame seeds.
Pop the miso, rice wine vinegar, maple and water into a food processor, blitz and slowly add the olive oil. Use the soy as your salt and season according to taste, I normally put a couple of teaspoons in.
Once the cauliflower is cooked arrange the steaks onto serving plates and distribute the dressing over the hot cauliflower, finally finishing with a super generous sprinkling of the nori and sesame mixture and some hemp seeds if using.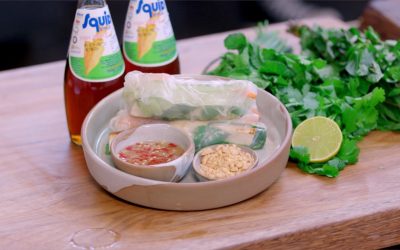 This recipe is brought to you by our friends at Asian InspirationsIngredients:Serves: 8 Prep Time: 10 mins Cook Time: 15 mins Main Ingredients: 1 packet rice paper 150g rice vermicelli noodles 1 bunch coriander 1 bunch Thai basil 1 bunch mint 1 bunch garlic chives 1⁄4...