500g Strawberries, Raspberries, Blueberries or Blackberries
50g White Chia Seeds
25-50g Maple Syrup / alternative sweetener
1tsp Vanilla paste or 1 vanilla bean, seeds only
Up to 50g Coconut water
Up to 25g Lemon juice / Apple cider vinegar
In a food processor, blitz berries, chia, sweetener and vanilla until thoroughly combined, add lemon juice and water, blitz again.
Place in jar and refrigerate.
Jam will be ready after 3 hours, but overnight will be chilled.
Place all ingredients except chia, into a small saucepan and simmer over a low temperature, stirring occasionally, until fruit is starting to collapse and juices release are starting to form a syrup. Could take up to ten minutes.
Stir through chia seeds until thoroughly incorporated, place in jars and close lid whilst steaming to seal. Refrigerate and consume within a week due to minimal preservatives.
Gluten free
Grain free
Sugar free/ reduced fructose
Low carb
Dairy free
Vegetarian
Vegan
Pescatarian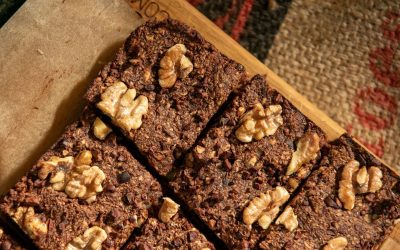 This recipe is brought to you with the help of our friends at JC's Quality Foods Ingredients: 1 ½ cups raw cashews 1 ½ desiccated coconut 3 medium ripe bananas, peeled and chopped 10 fresh dates, pitted 2 tsp vanilla extract ⅓ cup raw cacao powder ½ tsp bicarbonate of...